Toyota spring cleaning: spring maintenance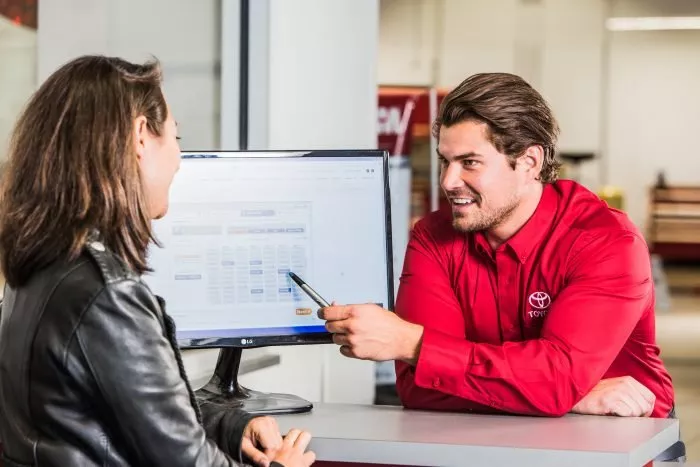 Spring cleaning isn't just for your home. Your Toyota can benefit from spring cleaning, too! These 3 services keep your Toyota spick-and-span on the inside and out, which may help improve vehicle performance and keep your car in tip-top shape all year long. Here are some spring-cleaning steps.

Service #1: Toyota combustion and EFI system cleaner service
Did you know environmental conditions, driving habits, or poor-quality gasoline can cause build-up in your vehicle's fuel and combustion systems? Environmental conditions can lead to compromised fuel economy and performance.
Toyota's Combustion and EFI System Cleaner Service is a two-step 360° fuel system cleaning process that helps clean and eliminate contaminants and deposits in the combustion chambers and on intake and exhaust valves. Performed by Certified Toyota's Trained Technicians, this service restores efficiency to the EFI system and improves fuel economy.
Service #2: Toyota complete fuel system cleaner

Gasoline contains a lot of additives. These additives can leave behind deposits that build up inside your engine, causing it to run less efficiently. Our Toyota Genuine Complete Fuel System Cleaner is here to help!
Created by people who know your Toyota best, Toyota Genuine Complete Fuel System Cleaner removes deposits that build up inside your car's engine. Toyota's Genuine Complete Fuel System Cleaner helps eliminate engine hesitation and rough idling, restore lost power and acceleration, reduce exhaust emissions, prevent engine knocking, and clean your fuel system.
Not sure if this product is right for your vehicle? This genuine Toyota product can be used on all types of gasoline engines. It's also effortless to use. Just ask your Toyota Service Advisor how to use it, or we can do it for you.

Service #3: A/C Refresher Service

Breathe easy with an A/C Refresher Service performed by Certified Toyota Technicians. The ventilation system in your Toyota is engineered to filter out the maximum amount of particulates (like dust, pollen, and pollution) while allowing an open flow of clean air into the vehicle. Over time, particulates start to build up. Adding an A/C inspection to your spring-cleaning routine will help you avoid any more significant Toyota ventilation system issues down the road, plus you'll be breathing in the fresh air all year long.
The A/C Refresher Service is a two-part process. The first step involves spraying our A/C Power Foam (a heavy-duty detergent coil cleaner) which foams during application. When injected through the A/C drain tube, the foam absorbs dirt and other residue when injected through the A/C drain tube. It then breaks down into a liquid and drains out of the drain tube, which removes all contaminants in one easy treatment. For the second step, we use the A/C to clean and freshen the air ducts in the system, eliminating unwanted odors. Our A/C Refresher Service will leave your Toyota with a new, clean, scent-free vehicle.