Quality, reliability and durability may be the things that quickly come to mind when you think of Toyota. It's time to add fun-to-drive to that list. In fact, with a presence in motorsports -- and a legacy of success -- dating back more than 60 years, Toyota has been just as focused on building-in track-bred performance as it has on building-in quality. But first, let's dive in to what makes a vehicle fun-to-drive in the first place.

What Makes a Car Fun to Drive?
Being able to feel the car and how it responds back to you through the steering and throttle could be the number one fun factor. It makes you want to just drive with no destination in mind. Everything from horsepower to how it handles the curves to how it looks just sitting in the driveway. Ultimately, what is fun-to-drive is how a vehicle makes you feel.

For Toyota, fun-to-drive is about emotional engagement. Designing and engineering vehicles that stir the senses and make you feel intimately connected and in total control. That comes from things like how fast a vehicle is off the mark, how precisely it responds to your driving inputs, and the feedback you get from the road.
Toyota's Racing Background - Gazoo Racing (GR)
For Toyota, 'gazoo' came to mean 'garage'. "So we combined those two images," Saga said. "And the ultimate goal of the various garages, each with a different focus, is to create better cars."
Toyota's history in motorsports dates back more than 60 years.
Having raced in all manner of motorsports throughout the world, Toyota's major successes gained under the most extreme conditions serve as the flesh and blood for building tomorrow's cars. In order to embody the concept of "Roads Build People and Cars," Toyota refines every aspect of its cars on the world's roads and unsparingly applies the knowledge and technology gained in this way as feedback. All is for "making ever-better cars." Holding this philosophy which has remained unchanged for more than 60 years, Toyota continues to push the limits.
GR Supra

The launch of GR Supra in 2019 for North America marked the return of a legendary nameplate and a new chapter in fun-to-drive Toyota sports cars. Boasting exceptional aerodynamics, a low centre of gravity, and almost perfect front-to-rear weight distribution, GR Supra delivers breathtaking acceleration and exhilarating handling dynamics. For 2022, GR Supra added a 255HP 2.0L twin-scroll single turbo engine to go alongside the original 382HP 3.0L powerplant.
GR86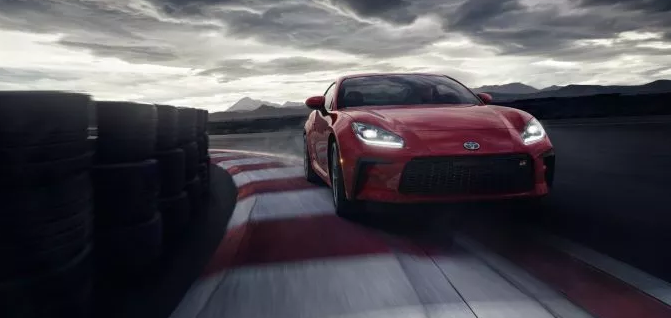 The spirit of the famed AE86, the 2017 Toyota 86 was designed as an affordable 2+2 sports coupe and won an immediate following. To earn its GR badge, the Toyota 86 was rebuilt from the ground up to become the Toyota GR86. With its lower centre of gravity, longer wheelbase, stiffer chassis, larger engine, superb power-to-weight ratio, and a race-inspired interior, the new GR86 takes fun-to-drive to a whole new level.
GR Corolla

The GR Corolla is the street-legal hot hatch that rally fans and tuner fans alike have been clamouring for. Powered by a revolutionary 3-cylinder turbo engine, boasting an innovative front-to-rear all-wheel-drive system, along with a truly driver-focused cockpit, GR Corolla is ready to set hearts racing and pulses pounding. Beyond its obvious track credentials, innovative GR-FOUR AWD powertrain, and ample cargo room, with 300 horsepower, it also promises to be one fun-to-drive everyday sports car.