A world without accidents - Toyota's ultimate goal
Your safety is our peace of mind
Pre-Collision System
Pre-Collision System (PCS) provides collision avoidance or collision mitigation support in certain situations where a frontal collision is likely to occur, and in some cases, will automatically apply the brakes to help the driver. Watch the video to learn more.
Always testing

In addition to thousands of virtual simulations, Toyota conducts more than 1,600 vehicle crash tests each year -- all to learn more about keeping you, your passengers, other drivers, and all of those who share the roads safer.
Through a series of comprehensive crash tests, with sensors feeding data at critical moments, we're able to analyze the effects of impact and design critical improvements.

Triple checking

Take our airbags, for example. Not only do electronic connections for the airbag system have gold-plated terminals, making them immune to corrosion. Every single airbag that comes out of a Toyota plant is also inspected three separate times on the production line before being connected.

Toyota new global architecture

In 2015, we introduced our Toyota New Global Architecture (TNGA), a complete re-engineering of our powertrains and platforms, designed to make Toyota vehicles better in every way -- including stronger, safer, and able to readily integrate ever-more advanced safety systems.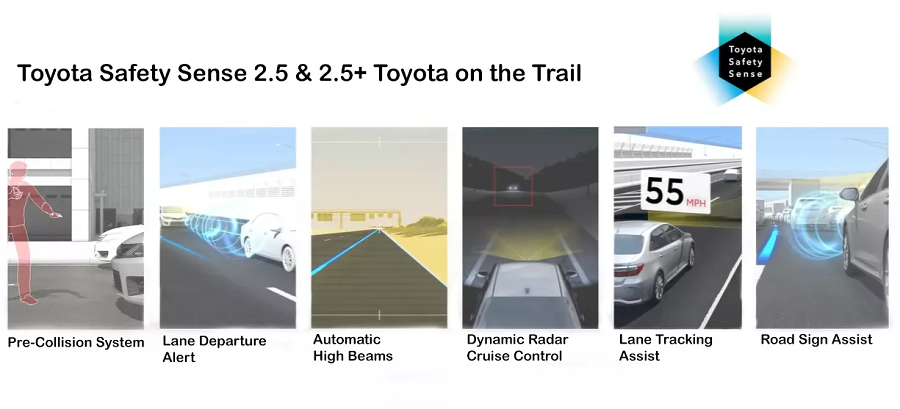 The next generation of safety
Toyota Safety Sense 2.5 is designed to help protect drivers, passengers, people in other vehicles on the road, pedestrians and cyclists from harm. This latest generation of Toyota Safety Sense represents Toyota's next milestone in a long history of creating advancements and innovations in safety that help prevent crashes and protect people.
The Toyota Safety Sense 2.5 and 2.5+ take Pre-Collision System a step further with two additional functionalities: intersection support and emergency steering assist. At intersections, the system may detect an oncoming vehicle or pedestrian when performing a left-hand turn, as well as an oncoming pedestrian when performing a right-hand turn.
Meanwhile, emergency steering assist is designed to help stabilize the vehicle when the driver initiates an emergency steering maneuver around an obstacle within their lane, reacting to a preceding pedestrian as well as a preceding vehicle or cyclist.
Toyota Safety Sense addresses the three most common types of accidents
Frontal Collisions
Unintended Lane Departures
Nighttime Accidents
Under certain conditions, Toyota's safety sense is designed to support driver awareness, decision making and vehicle operation over a wide range of speeds. Packaged together in an integrated system, Toyota's safety sense features help address three key areas of accident protection: Preventing or mitigating front collisions, keeping drivers within their lane, and enhancing road safety features during nighttime driving.
However, drivers are responsible for their own safety, and must always drive safely, obey the traffic speed limits, laws and focus on the road while driving.
Operation overview
Vehicle detection
When Pre-Collision System determines that the possibility of a frontal collision with another vehicle is high, it prompts the driver to take evasive action and brake by using and audio and visual alert. If the driver notices the hazard and brakes, the Pre-Collision System may use Brake Assist to provide additional braking force.
If the driver does not brake in a set time and the system determines there is a possibility of a frontal collision with another vehicle is extremely high, the system may override the driver and automatically apply the brakes, reducing speed to help mitigate the impact or avoid the collision entire if possible.
The Pre-Collision System will apply the same rules as vehicle detection for Pedestrians and Bicycle detection.
Dynamic Radar Cruise Control
Dynamic Radar Cruise Control is a high-tech cruise control system that uses a front grille-mounted radar and a forward-facing camera to detect vehicles in front of you and automatically adjust the vehicles speed to help maintain a pre-set distance behind a vehicle ahead. This can be most useful to users during long highway trips at higher speeds to prevent collisions and improve fuel performance.
If the vehicle ahead is detected travelling at a slower speed than your pre-set speed, Dynamic Radar Cruise Control will automatically slow the vehicle to maintain a pre-set following distance without deactivating cruise control. If the Dynamic Radar Cruise Control determines the vehicle needs to slow down even more, and audio and visual alert will prompt the driver and brakes may be applied. When there's no longer a preceding vehicle driving slower than the speed selected, Dynamic Radar Cruise Control will accelerate back to the previous set speed.