2023 family car trends to keep in mind
Whether it's 5 am hockey practices, grocery shopping, or family camping trips, you need a vehicle that can keep up with everything an active family has to throw at it. Let's look at the 2023 Family Car Trends that will help you concur your day no matter what it has in store.
Upgraded minivans, SUV, and crossovers
Form and function collide with the all-new 2023 lineup; thanks to their versatility and abundant features, you can find the perfect model to fit your lifestyle.
Explore the Toyota Sienna

For the growing family on the go, look no further than the 2023 Toyota Sienna; with space for eight and all-wheel drive, this vehicle redefines what a Minivan can do.
Packed from front to back with safety features, your family can travel with peace of mind and comfort. With plenty of room for passengers and supplies with folding seats and armed with the Easy Speak system, your voice can be played through the rear speakers for easy conversation.
Explore the Toyota Sequoia
If adventure is how your family bonds, then the new 2023 Toyota Sequoia is the perfect companion for the school run and the open road. With peak performance in all conditions, your family will ride in comfort no matter where life takes you. This stylish and functional SUV looks just as at home in the mountains as it does in the city, with intuitive parking assist and a panoramic view to help you back in a trailer or squeeze into some prime parking.
Explore the Toyota RAV4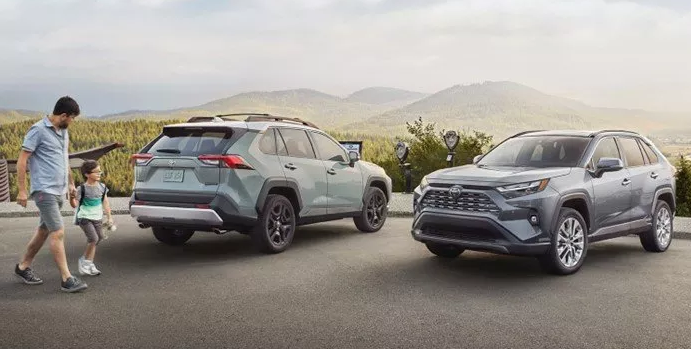 For a small family who wants to do it all, consider one of our hybrid model 2023 Toyota RAV4s! The perfect 5-seater for any occasion, the RAV4 Hybrid will get you wherever you want to go with fewer trips to the pump. Comfortable, stylish, and fuel-efficient, this hybrid will take anything you can throw at it.